By Polina Ilieva, Solution Sales Specialist at Flat Rock
The number of websites, as per December 2012, was reported to be 634 million. Every year more than 51 million new pages are added. An average, the US Internet user browses more than 138 webpages a day. How many do you browse? Do you remember all of them? I doubt that.
What makes a website irresistible to the mind and why do people remember only a few pages that they have visited? One of the reasons for that is the choice of colours. Men and women, younger and older, different nations and businesses – they all have various preferences for colours and therefore we need to use the right ones to target our audience.
Men vs. Women
Men and women are very different in their choice of colours. It is proven that women are able to perceive more colours than men. That is why it is very rare for guys to be able to differentiate between salmon and pink for example.


Older vs. Younger
Older Internet users have preferences to the mild and relaxing colours while youngsters appreciate brighter and more vivid ones. The same applies for colour combinations – the more contrasting they are, the more younger people like them.
Nations perceptions for colours
According to a survey, conducted among high school students in 20 countries, blue is the most highly evaluated colour, followed by green and white. Another colour research was made for people from Japan, China, South Korea and the USA. The results showed that all of them associate blue with high quality, red with love and black as expensive and powerful. Purple, however, is considered expensive in Japan, China and South Korea but it reminds of something cheap in the USA.
Colour emotion guide
Looking at the guide below you can see that now all logos make sense and that they were made strictly to target their audience.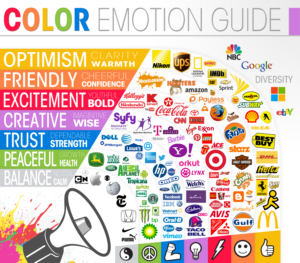 Source: http://blog.bufferapp.com
In case you are unsure about the right colour palette for your website, feel free to contact us or call +44 20 7193 8298 and we can help you position your brand successfully and reach the desired audience quickly and efficiently.