Flat Rock Technology has officially become carbon assessed and neutral during 2021!
As a global fast-growing company, we know that CO2e emissions hold a significant place in the negative impact humans, businesses and organizations have on the environment. At Flat Rock Technology, we don't take lightly the global warming crisis and environmental threats, that is why being sustainable remains a priority in the way we operate as an organization.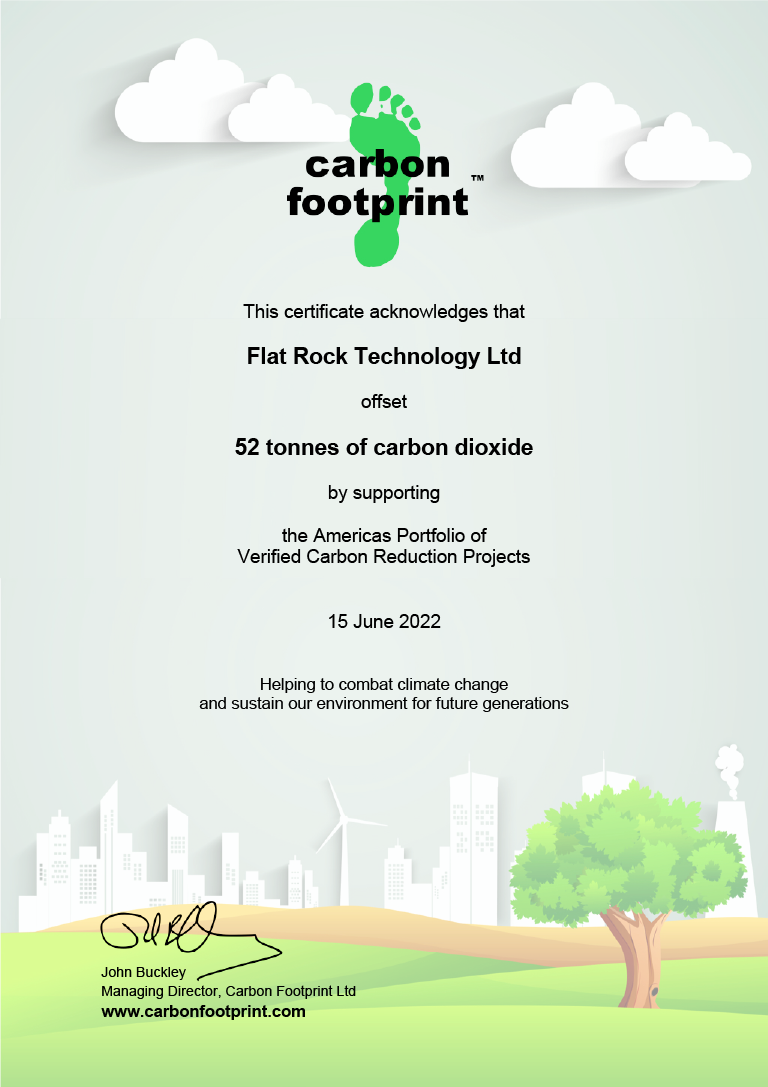 For the second year in a row, we were certified as Carbon Neutral by Carbon Footprint Ltd. What this means is that according to an independent specialist who audited the organization our carbon footprint is estimated and verified as neutral. With that said, our latest evaluation report shows that in the last 12 months, we have spent 52 tones CO2e emissions. This amount was backed up with evidence from our side and has been verified by the Carbon footprint organization.
The organization is known to be helping individuals, businesses, and small or large companies reduce the negative effect they have on our ecosystem by offsetting their annual carbon emissions. The organization helps businesses aim toward more eco-mindfulness and pro-environmental behavior.
What our data says about us
Flat Rock Technology's yearly carbon emissions have been calculated via Carbon Footprint Ltd's online carbon calculator according to the Department for Environment, Food, and Rural Affairs (DEFRA) and the Department for Business, Environment & Industrial Strategy (BEIS) factors, and in compliance with carbon and energy laws.
Among the elements included in the CO2e assessment scope were electricity, gas and water consumption, home-working, and means of transport such as taxi, bus, plane travel, etc. Despite the higher numbers of CO2e emissions in 2021, compared to last year's report, we have actually significantly reduced our carbon footprint by making a collective effort to operate as an ecologically mindful organization. The difference is that main travel restrictions were lifted in 2021 after many corporate activities have been postponed or canceled during 2020 due to the global pandemic situation. This resulted in much higher levels of consumption after many companies re-organized their usual corporate events.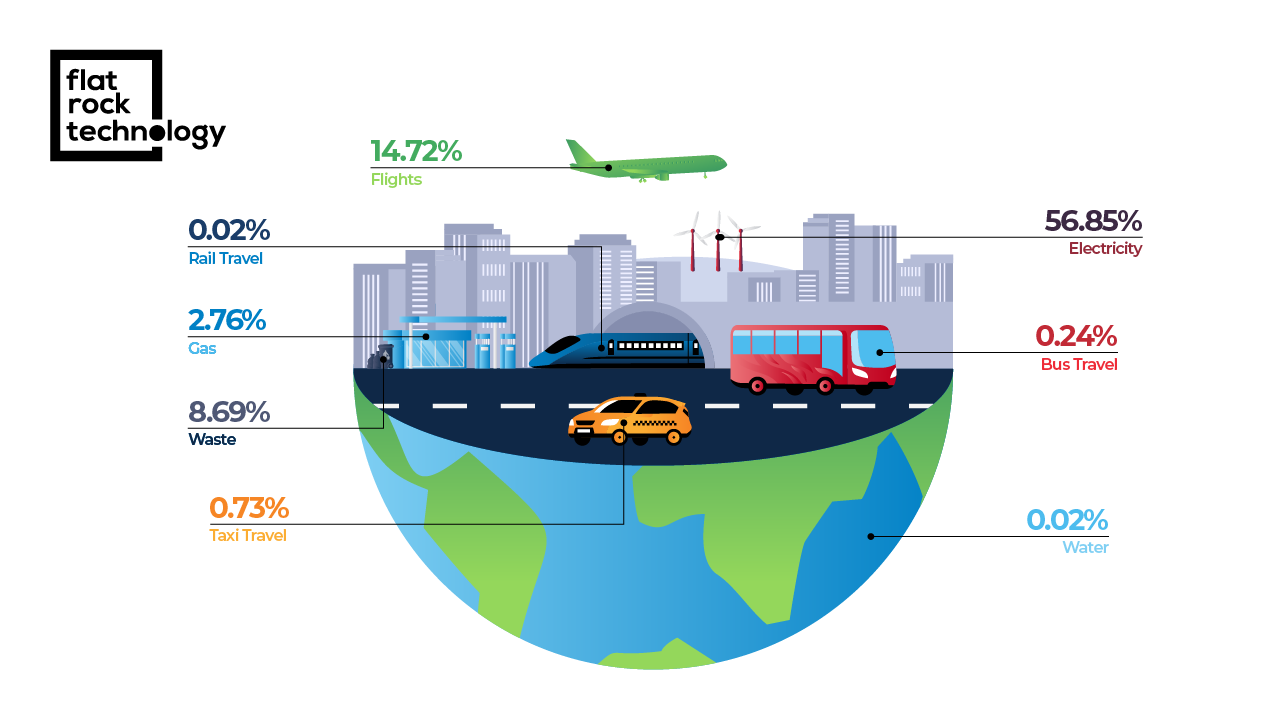 Our part in the CO2e offsetting
In order to additionally benefit the environment and local communities, this year we chose not one but three projects to support in our mission to reduce the CO2e emissions global impact. Flat Rock Technology contributed to a few projects from the Americas Portfolio battling again the deforestation in Brazil, the Hydroelectric project in Chile, and the Wind power project in Uruguay.
The first one concentrates on the Amazon, the largest remaining rainforest, a habitat of over 10% of all world species. They all rely on their biodiversity and wildlife which is why the project works to prevent unplanned deforestation in native forests, a result of logging, squatting, and attempts to implement pastures. Founded in 2012, the project is expected to avoid over 22 million tonnes of carbon dioxide equivalent greenhouse gas emissions over a 40-year period.
The Mariposas Hydroelectric Project consists of the construction and operation of a 6.3MW Run-Of-River hydropower plant. The Project uses the local waters to generate electricity from renewable hydrological resources which are later restored to the same irrigation system.
The third and final project uses wind power to generate clean renewable electricity and supply it to the national grid of Uruguay. The developed wind farm consists of 25 wind turbines that help reduce greenhouse gas emissions by replacing fossil fuel-based power generation and contribute in many ways to reducing the CO2e emissions and bringing many social community benefits to the region of Uruguay.
Our mission to Carbon offsetting and CO2e measure
For two consecutive years, Flat Rock Technology partnered with Carbon Footprint Ltd to ensure our carbon emissions calculation is being independently verified and carbon offset projects meet the highest standards available in the offsetting industry. The estimation of our company's carbon footprint is done in an open and timely manner to hold in high regard the industrial impact companies and organizations have on the environment.
Needless to say, these are just a part of the few steps we will undertake as a global organization in order to positively contribute to sustainable business development and continue to be an example for an environmentally mindful company.